To know how to deploy this template on your portal see the complete documentation here : How to deploy a gamification center
Home page for users
The home page of this template displays the gamification profile of the connected user.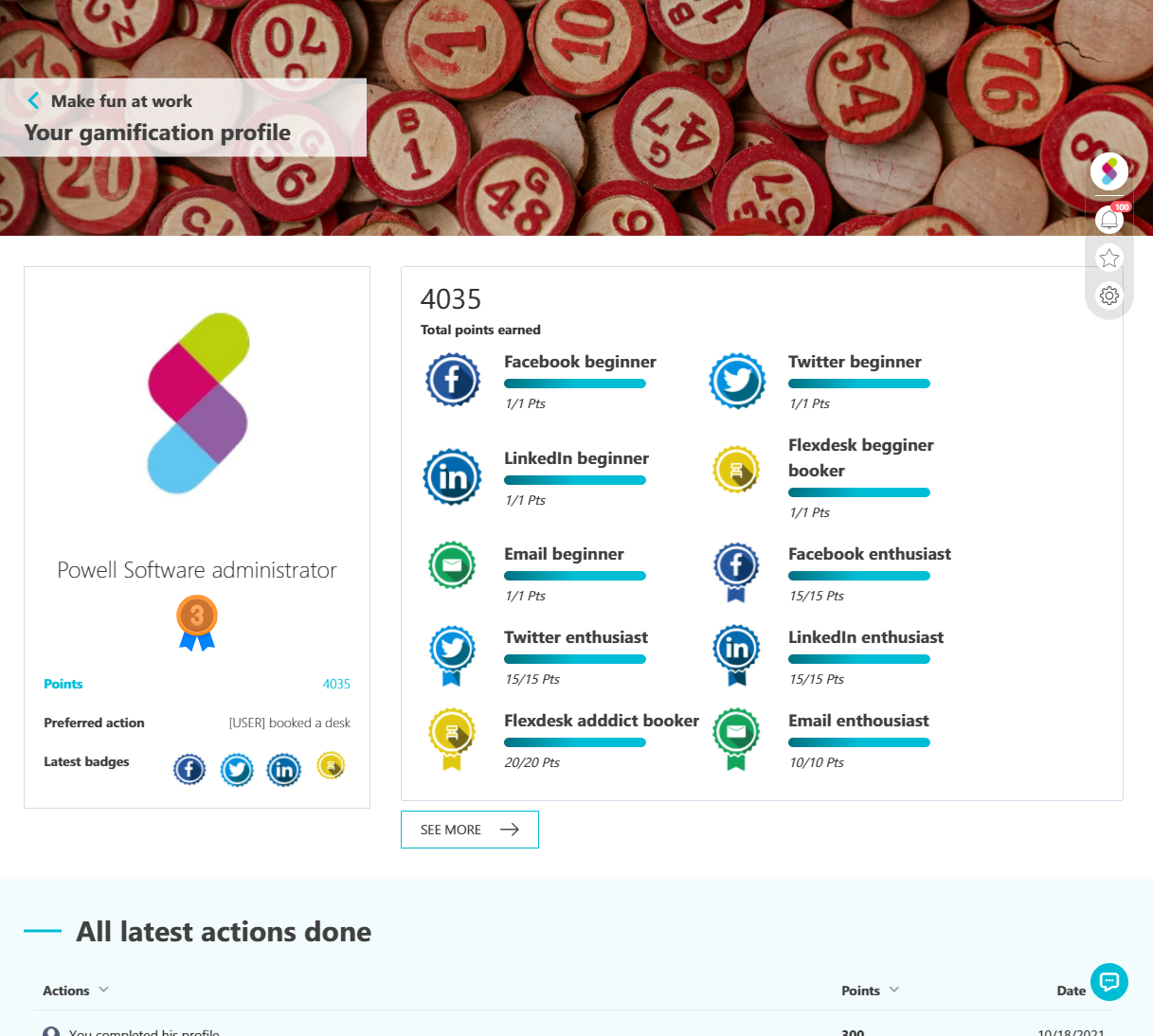 From there, the user can see his number of points, his position on the leaderboard and his progression on badges.
Administration page for contributors
To define all actions that will be count and badges that you users can win, contributors have access to the administration page.
On this page contributors can add new actions and new badge thanks to the dedicated buttons and check the global leaderboard.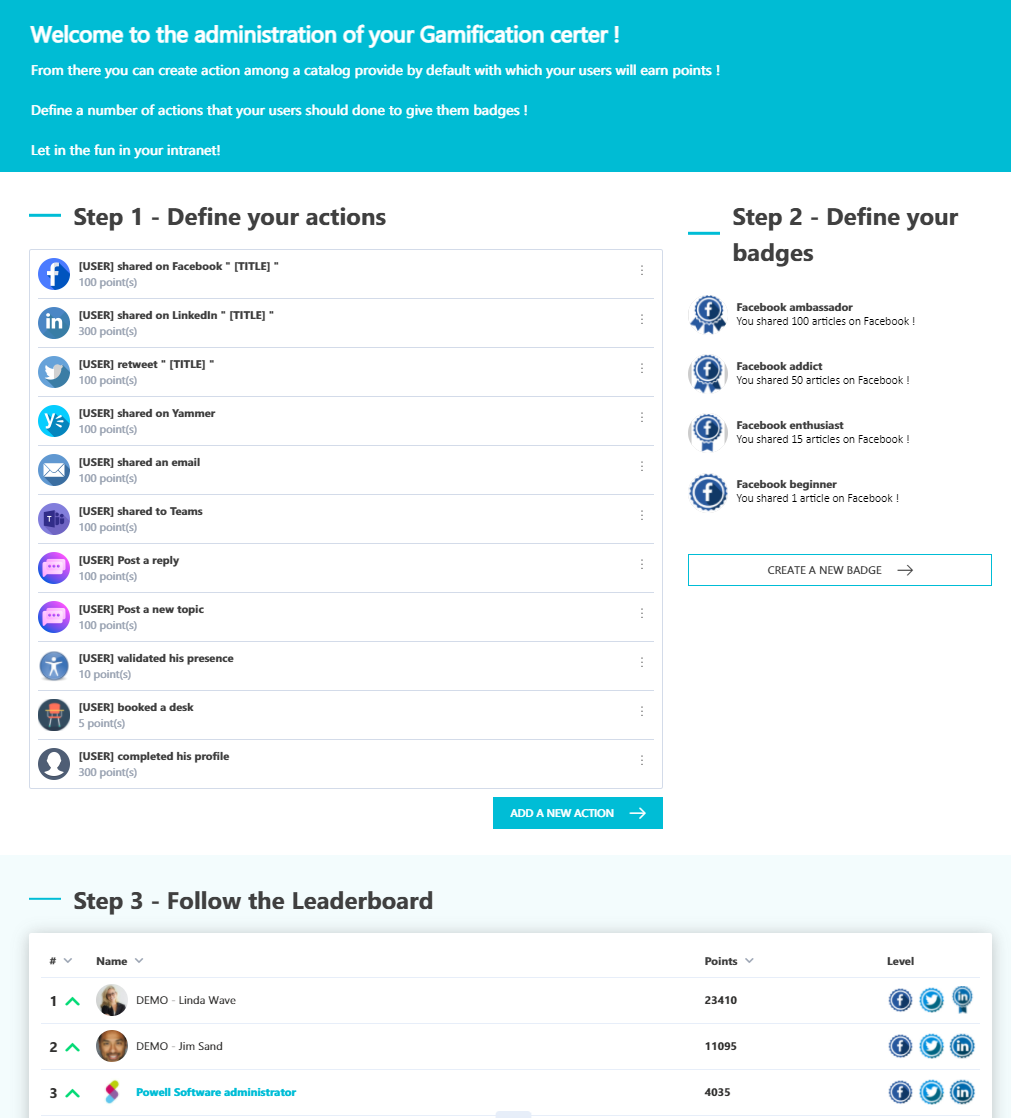 Add an action from Powell catalog
As at least contributor of the gamification center you can add action that will be stored and with which users can earnt points by clicking on the "Add a new action" button.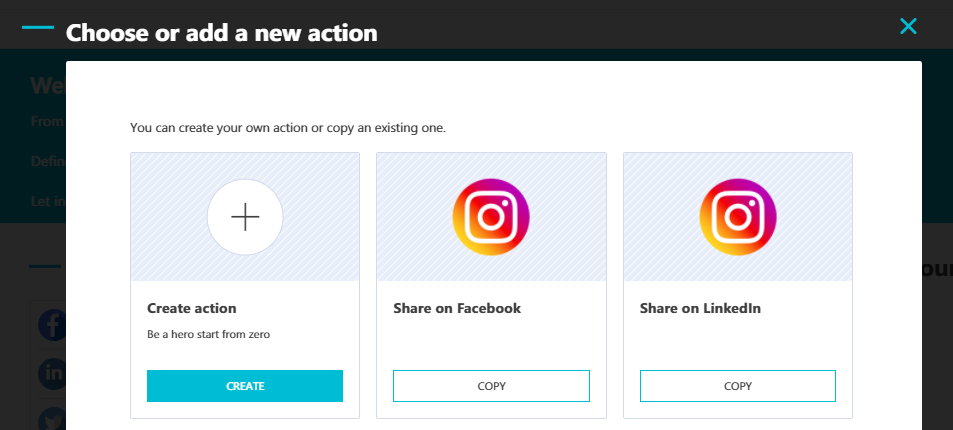 We proide you by default a catalog of actions that you can choose to enable it or not on all your sites linked to the gamification center.
Each action is linked to a component or a feature. See below the complete list and what the user must do to win the associated points:
Sharing actions (Sharing views)
Share on Facebook (FBS)
Share on LinkedIn (LIS)
Share on Twitter (TWS)
Share on Yammer (YMS)
Share by email (EMS)
Share on Teams (TMS)
Comments (Powell discussion only)
Open a new conversation (WFT)
Post a reply (WFR)
Flexdesk (Flexdesk calendar / booking)
Book a desk (FBD)
Validate his presence (FDV)
Profile (My profile - Orion user profile view)
Complete his profile (PRC)
Ideation (Button for create site / Ideation views)
Submit a project (PJC)
Like a project (PJL)
Your project has been like for someone else (PLD)
Project shorlisted (PSL)
Project selected (PJS)
Add a custom action
But you can, if you want, create your custom actions that you can associate behind a button.
Click on the "Add a new action" button and on the popin select the "Create action" tile.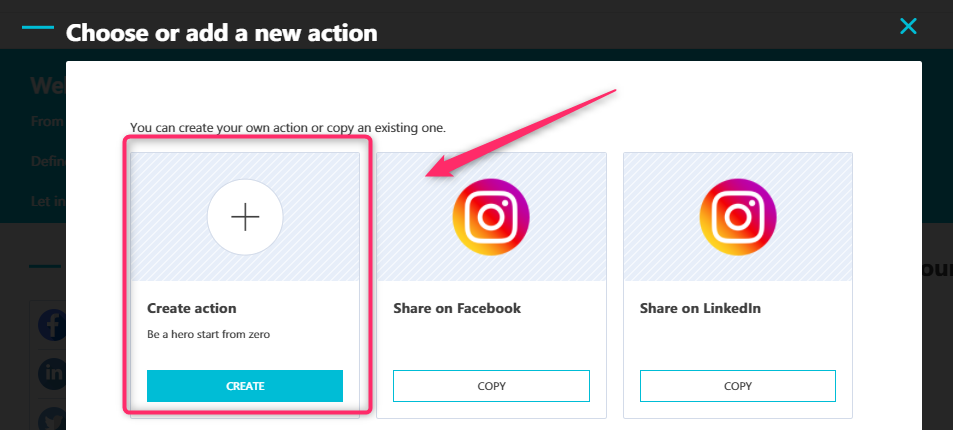 A blank form will appear where you must filled :
The title of your action
The image
The code (3 letters is the best)
The number of point earn by user who realize the action
If the action is boost or not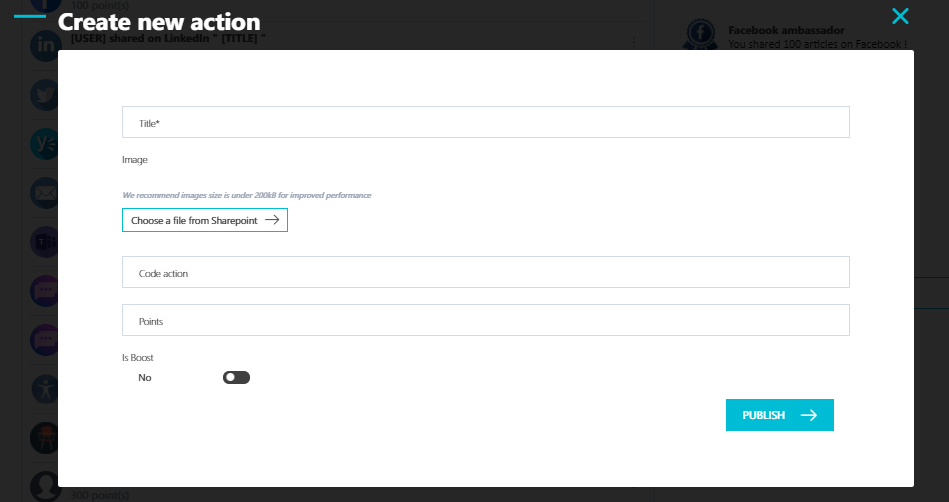 All custom actions created can be associated to a button webpart when you configure it to create content. Let see how to do it in the webpart button article : Button webpart - Configurations