That you need to know before start
Do

you

have an Azure

account

with

Administration

rights

?

​

Do

you

know the Azure Notification Hub ?

​

If yes, are

you

able to

create

an Azure notification hub service ? (extra

costs

can

be

applied

by Microsoft

depending

on

your

usage)

Do you already generate your package for Android and/or iOS following the dedicated documentations?
Global settings
If you want to activate notifications on the app, you need to fill the information about your Azure notification hub name in the global settings of the app in P-Manager. This service will manage the sending of notification to users.​
To do so, let yourself be guided by the following steps on how to create the hub and collect the information needed.
Step 1 : Create the notification hub from Azure
Step 2.1 : Configure the Azure notification Hub for Android
​In the "Google (GCM/FCM)" tab, paste your Firebase server key (already copied previously)
​

Step 2.2 : Configure the Azure notification Hub for iOS
​In the "Apple (APNS)" tab, you must select "Token" and fill the following information :​
Key Id

​

Bundle Id

​

Team Id

​

Token (available within the .p8 file)

​
*All this information has been stored previously and can be found in your Apple developer account.​
​At the end, for the Application Mode you need to select "Production"​
​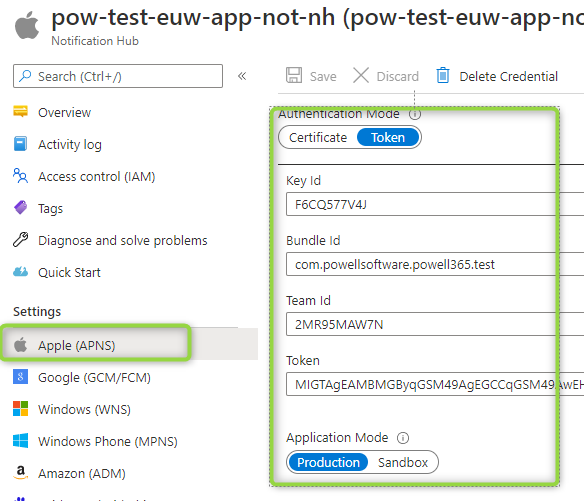 FINAL STEP :
Fill the information in Powell Manager
To enable notifications in Powell Manager you must go back to "Notifications" tab and fill two types of information :​
The azure notification hub name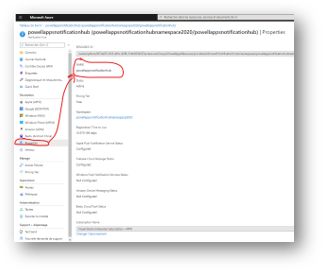 ​
The azure notification hub full shared

connection string