Table of contents
What is Together?
Definition
Together is the communication and collaboration space for Small Businesses, typically between 50 and 300 employees. It is a complete and ready-to-use Intranet and Teams space that allows a centralized experience with more engagement and social interactions, while being very easy to deploy. Additional resources: Discover Together in less than 5min (video), Together - The small business communication & collaboration space
What's included

Together is part of Powell Teams licence. It enables to access to a complete SME Intranet in Teams as well as all other Powell Teams features. It does not include Powell Intranet and its features (Powell Manager, Powell Intranet widgets). Please refer to the feature comparison at the end of this document for more information.
Deployment & access
Together is a solution that can be accessible
| | | | |
| --- | --- | --- | --- |
| As a regular intranet, e.g. a webpage in any browser | From a mobile in the Teams mobile app | As a button in Microsoft Teams - to provide a Viva Connections like experience | As a Microsoft Teams team |
| | | | |
the deployment is composed of 3 steps: One mandatory and 2 optional.
- The together portal (mandatory). It is deployed in SharePoint
- An app deployed in the left menu of Microsoft Teams (optional)
- A team in Microsoft Teams (optional)
The deployment is super simple, does not require technical skills. See all details in Deploy the Together Intranet
How much time do I need to deploy Together?
While it requires less than 25min to technically deploy your Together portal and 5 to 10min for the team creation, you will need about 2 to 3 days to implement your own content: text, pictures and links.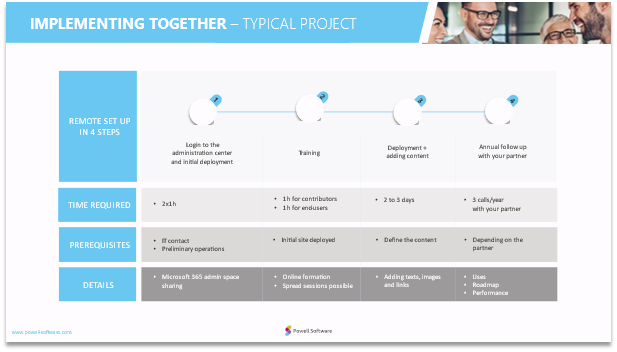 Is it possible to deploy several Together portals in the same Office 365 tenant?
Yes, you can deploy as many portals as you wish. That could be useful if you have an affiliate company that needs their own space in FR or EN as an example.
Personalization
How to adjust the theme to the brand of the company?
The first version of the feature does not allow you to manage a graphic personalization of the page templates. Those templates have been created to enhance usage into a Teams interface, so we simplified some existing pages and removed some additional cosmetic options. The only possibility of customization is to choose the logo of the app in the left menu and to choose the name. Changing the SharePoint theme will not impact the Powell SPFx component, so we don't recommend you to do so.
In the nearest future, we will make it possible to change the blue color to another color and to add a logo in the top navigation of the application.
In which language Together is available?
Together is available in French and in English at the release of the feature. More languages will be included in the next months (during Q4 2021). If a user accesses the portal with another language in his preferences, the English labels will be used by default.
Can I add and remove my own channels or tabs and modify the default names in the associated Microsoft Teams team provided by Together for my portal?
You can add any channel or tab you want to your team. No need to stick with the Powell Teams template provided in the gallery. You can add new custom channels or tabs and remove the ones that you don't want to see in your Together team. As an example, you can add a tab referring to a 3rd party application HR, CRM, etc...
You can also modify the default names of the channels and tabs depending on your needs.
Can I customize the department pages and names?
Department pages are preconfigured with a structure adapted to small and medium businesses. You will have an introduction text zone, a list of contacts, a list of links that you can define by yourself, and the list of last news and document shared in the department. You can do some modifications by adding some web parts (refer to the next section). If you want to have more specific customization, then you will need to upsell to Powell Intranet. When creating a department, you can choose its name and even modify it if needed.
Can I add web parts to the pages?
If you have the right to edit a page, you can add any SharePoint standard web part in your Together pages through the native SharePoint interface. This is available directly into all "Together" pages whatever is your access mode: Microsoft Teams team, Microsoft Teams app, or directly into the browser.
Click here for more detailed information on how to add and modify web parts.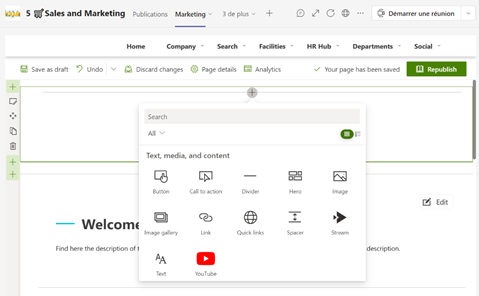 Can I modify the main navigation?
Yes, you can modify the navigation in the Together portal. The navigation is compatible with portal internal links and also portal external links (as an example, you can add a link to another site outside the "Together" portal or to a 3rd party application).
To update the navigation, you need to have the role "Site Owner" in the Together Portal: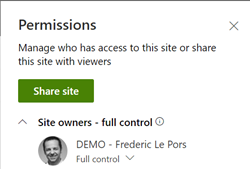 To edit the navigation, the feature is available in the right menu in the gear: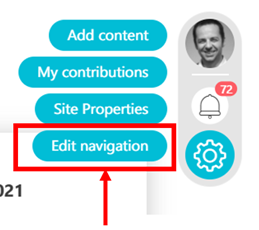 Can I change the configuration of the different widgets available in Together?
No. The edit button is visible, but the service will not be available (widget is not editable) if Powell Intranet has not been subscribed.
Can I modify the refiners in the search engine?
The refiners are not customizable. The different categories (like File type or Site) will be always the same but the filters in a category will be dynamic, depending on your portal content & structure. As an example, if you create a department "Finance" and you add content in it that will match your search query, the Finance department will be available in the Site category.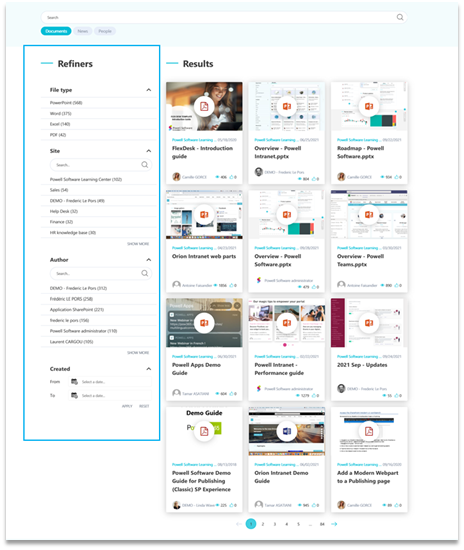 Important note: The Microsoft search feature gathers information from multiple sources, so when you add new content somewhere in the portal, it can take few minutes to make it available in the search result.
Who can customize the team associated with the Together Portal?
By default, any team member can add tabs into a team channel. If you want to change these settings, you can do so into Microsoft Teams native interface.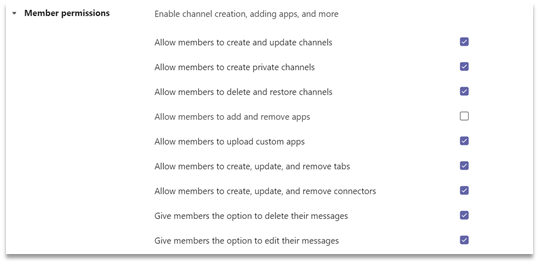 How to extend the Together Portal depending on your needs?
Case 1: Department site
By default, the Together portal comes with only a few department sites. To add a new department, you can use the gear to create a new department and then add it to your global navigation.

Case 2: Existing SharePoint site or content before the deployment of the Together portal
You can simply add a link to the resource in the global navigation
Case 3: a new content - a page as an example, to describe an important topic in the company.
You can use the mechanism already available in SharePoint: Create and use modern pages on a SharePoint site (microsoft.com) and link your page in the global navigation.
You will not be able to reuse our widgets with specific configurations, however, all native SharePoint widgets will be available for use.
Is it possible to go further in the customization of the Together intranet?
It is not possible to go further in the customization of Together. To have more possibilities, you will have to upgrade to Powell Intranet.
How do I add all my employees in Together?
To allow employees to access to Together portal & teams:
Together Intranet: The Together intranet relies on Office 365 technology. It is exactly the same as sharing a site in SharePoint: Share a site (microsoft.com)
Microsoft Teams team: you can add your members during the team creation process or after it in the Teams native interface. The team is created by default as a "public" team so everybody can join. You can add it as well as in the promoted teams tab in Powell Teams to highlight the team for your end-users.
If you want to add a massive number of employees at the same time, you can add a list of employees with a security group (as an example "All-Employees" available in the Azure Active Directory list)
Contribution experience & analytics
Who can contribute, aka add content, news, events, and photos?
By default, Together keeps the same way rights as managed in native SharePoint so that all the owners and members of the portal will be able to add and edit the content on intranet pages.
Learn more:
We have made it easier to contribute on "Together" pages by providing pages with add and edit content buttons directly on the pages.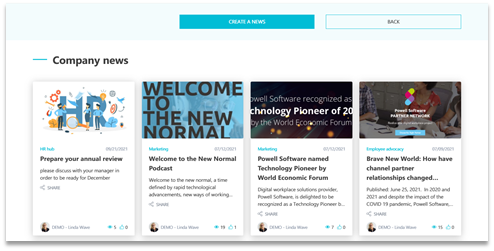 Can I access analytics for usage?
You can access a simple Analytics button for each page of your portal and get data about page viewers, average time spent, and page traffic on 7, 30, or 90 days.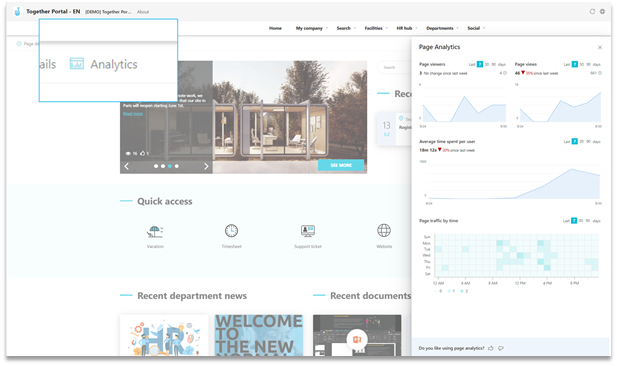 Architecture
Each Together portal is an independent SharePoint site collection provisioned with several pages that will then be able to be filled with your own content. it is based on Modern Experience with Communication sites.
Together vs Powell Intranet
Functional comparison - what else will Powell Teams do for me?
As already seen, Together is included in Powell Teams so that users can have access to the governance, lifecycle, and templating functionalities of the product. As you can see in the table below:
Choosing Together versus Powell Intranet briefly:
- Does my customer require branding customization?
- Does my customer require multilingual (variation) capabilities?
- Does my customer require ad hoc templating to create its own use-cases or look & feel?
- Does my customer require Gamification, Ideation, Sales RFP Templates?
If one of these questions is YES, then Powell Intranet might be a better option.
Otherwise why not benefit from a much lower implementation price (3 days versus 10 days+) / and teams governance/end-user capabilities.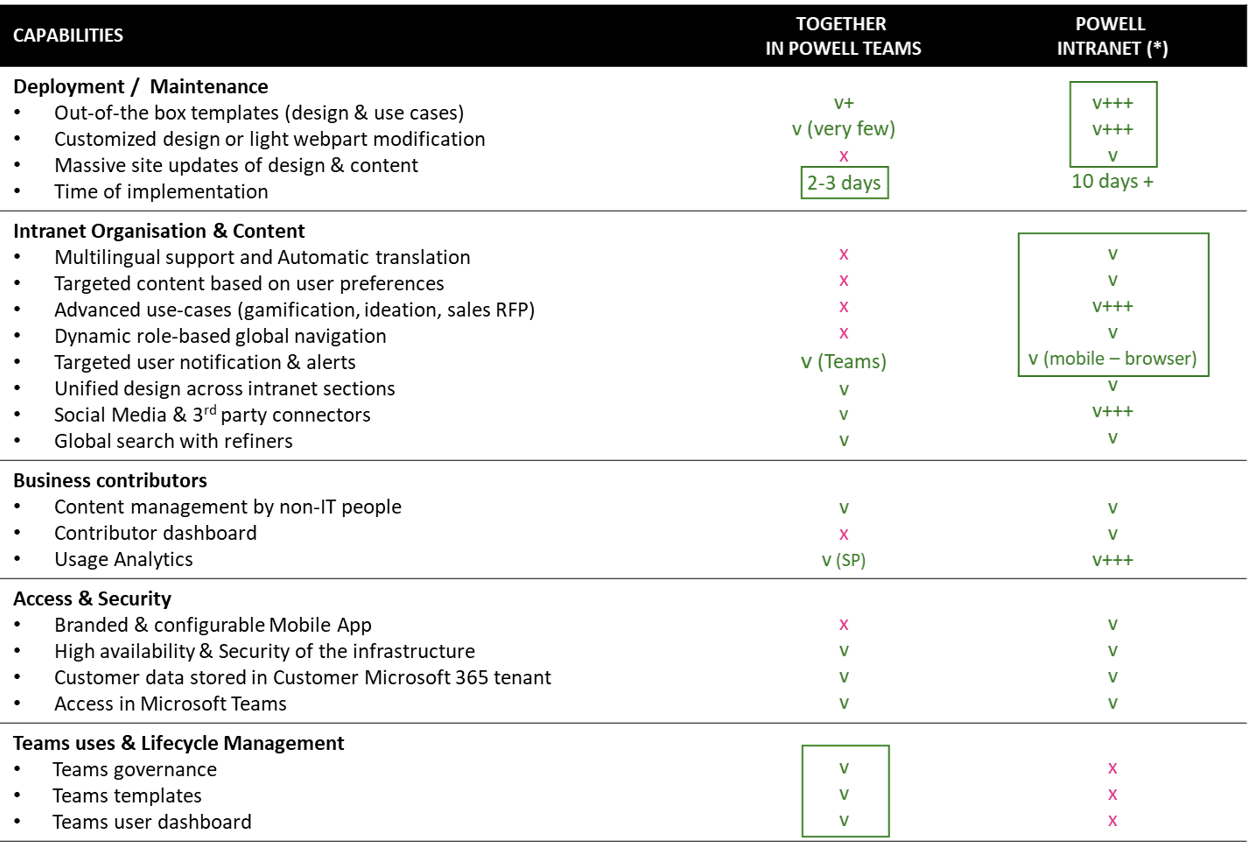 How to switch from Together to Powell Intranet?
As my company gets bigger, I need to have a more granular Intranet. I can buy Powell Intranet and use my existing Together site as a basis.
You"ll have nothing to do. When you upgrade your license with Powell Intranet, you will get access to Powell Manager - our SharePoint governance & designer tool for SharePoint; and the Together Portal will be available in it.