Table of contents
Introduction
Together portal is composed of multiple sites. When you deploy it, you will have immediately a portal provisioned with several pages. You will then be able to fill these pages with your own content.
As you deploy your Together portal, it will come with pre-configured pages and by default, only with few department sites.
If you want to add a new department, you can use the gear to create a new department and then add it to your global navigation. When creating a department, you can choose its name and even modify it if needed. To do that you need to be a site owner.
When you create a department page. it will be already pre-configured with several web parts, by default but it will be empty. So you will have to build the content by yourself.
1) I create the page
Important: To add new departments, you need to be a Site Owner in the Home of the Intranet site and you need to be located on the home page of our "Together" Portal.
Step 1:

Step 2:

Step 3: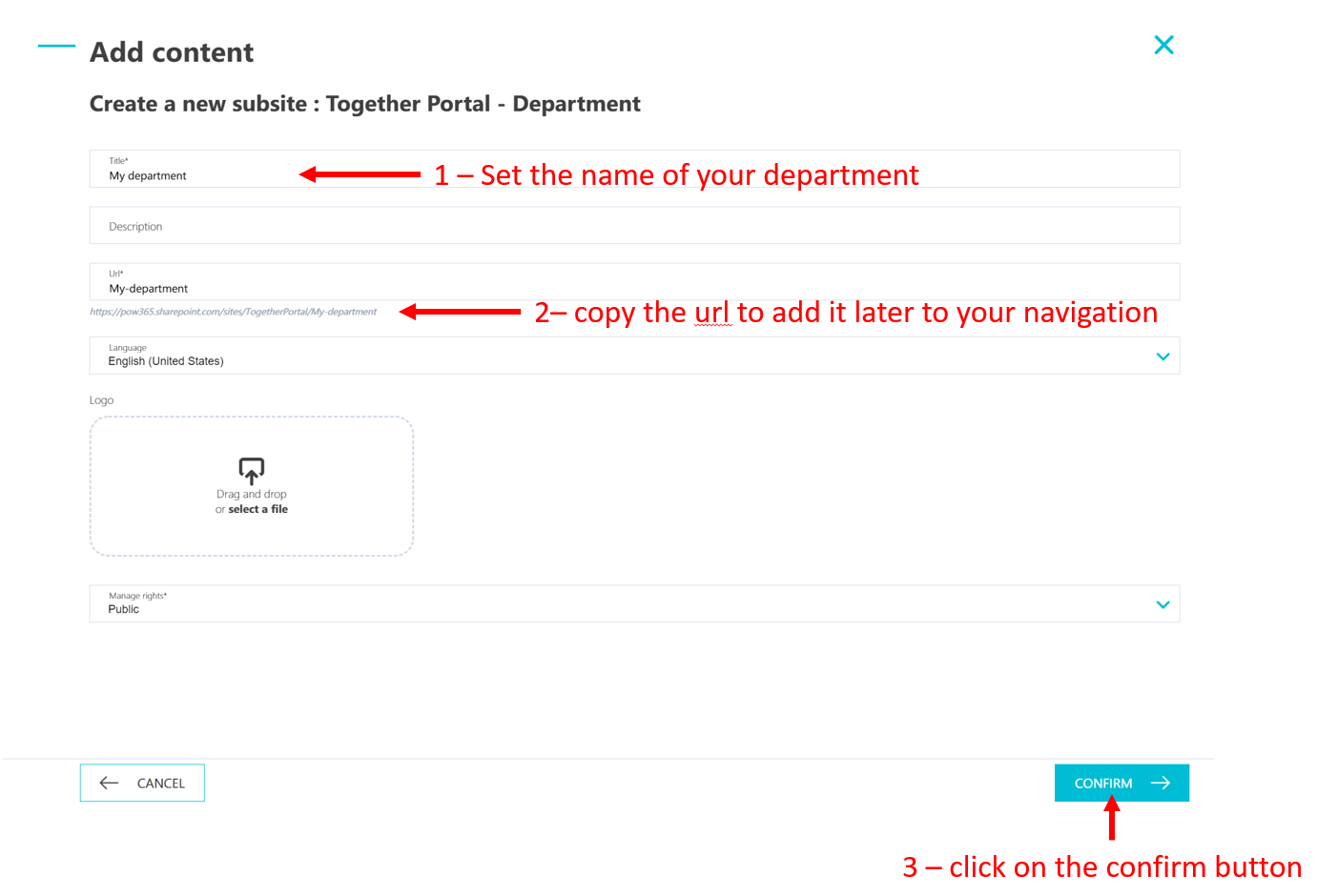 After the confirm button, you will need to wait few minutes before the new department will be available.
Important: do not forget to copy the URL of your department to add it to your global navigation after the creation. if you miss it, the url of the site will be available in the site content section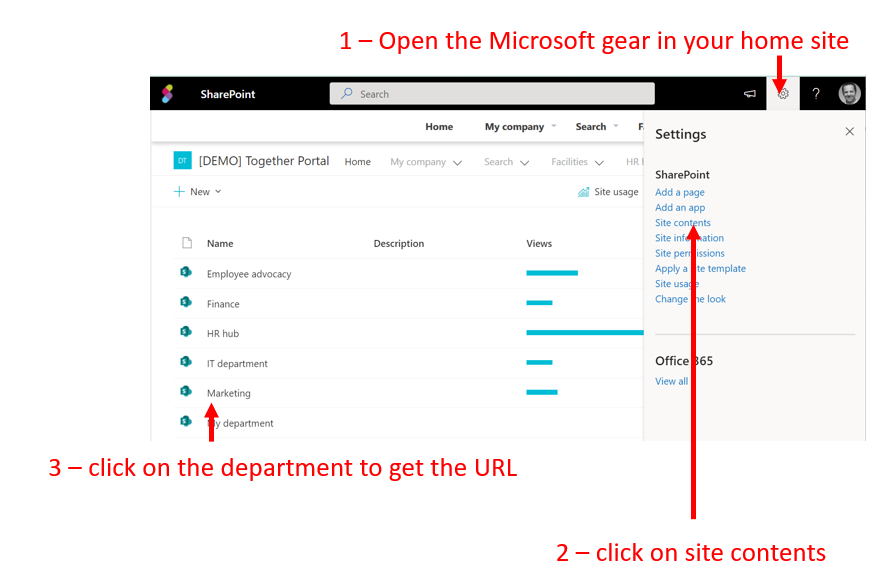 In the contents, click the page you have just created and copy the URL.
2) I add it into the nav
To edit the navigation, click on the gear and click edit navigation.

In the navigation panel, you can manage all your navigation nodes and organize the navigation in the way you want. The navigation supports 2 levels of nodes and you can add any url links (it can be external links to your company apps, or other content in your Microsoft 365 environment).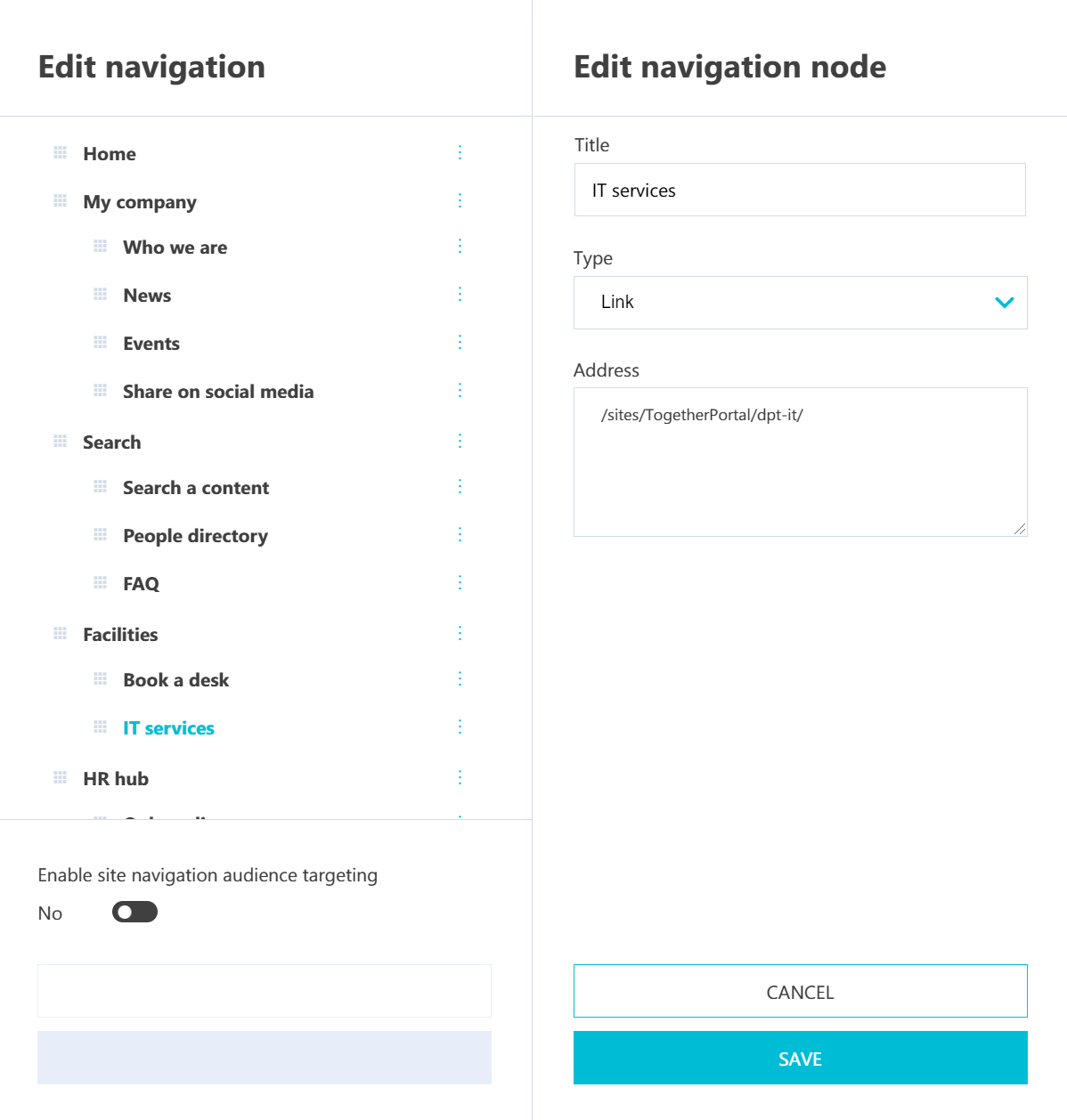 Step 1:
To add a department page in the navigation, scroll down and click the button "Add a link". It will permit you to create e new navigation node.
Step 2:
Give a title to your navigation node - that will be the title that will appear in the navigation.
In the address box, you have to paste the page URL.
Then, click Save.
Step 3:
As you click the "save" button, the new node will be added to the navigation on the left, but you need to click on it and put it wherever you want it to appear in the navigation.
As it is a department page, bring your mouse close to the sign before each page title, and drag and drop it under the Departments section.
Then, click "save".
Note that:
You can always, edit or delete your page by clicking the three-dot icon next to each page title.
Also, to add a subpage, you can bring the mouse under each page and you will see a plus sign. Click this plus sign to add a sub-page.
You can also manage the audience for your department page. On 'Together" you can define the group of people that will have access to your page. Click here, to see how.
3) I add the tab into Teams if needed
Together also offers the capability to access the company portal through a dedicated Teams to bring daily interactions, social features, and more employee engagement in the hybrid work. It requires you to deploy the associated Powell Teams team template during the deployment step.
When you have already deployed your Together portal and the associated Together team, you will be able to add the necessary pages and tabs to your teams. Read more about it through our article on how to deploy your Together portal and the associated team.
When you create your first "Together" Team it will be already ready with predefined channels and pages. However, if you create a new department page or any other new page on the portal, you will always be able to add these new pages as tabs in your Team.
Let's see how:
step 1: Add a new tab in a channel through the "+" sign.
step 2: Select "SharePoint" as a tab.
step 3: Select "Any SharePoint site", insert the page URL that you want to add as a tab and click "save".
Your page will be added to your team channel as a new tab.