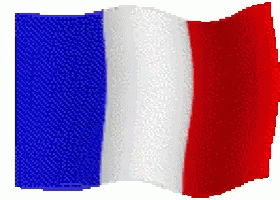 Lien vers l'article en français : Qu'est-ce que Together ?
Introduction
Together – The small business communication & collaboration space. Whether the goal is to improve employee productivity, collaboration, or communication, small businesses are just as concerned by digital transformation issues as large companies. Yet SMEs face unique struggles in the modern workplace that hinder their efforts. It's common to hear employees talk about the number of tools they have, the complexity of using them, and the training involved. At the same time, they complain of lengthy, costly, and often ineffective change management projects.
Together – the intranet in Teams and vice versa! In the same time, a true corporate intranet and a team in Microsoft Teams, "Together" leverages both modes of information sharing: structured communication in the intranet, spontaneity, and collaboration in Teams. Together is simply an all-in-one space that meets the needs of employees and businesses in an intuitive and social interface.
Together helps companies promote company culture and social interaction where employees want it: in Teams. You no longer need to guess where to post the latest company news; the intranet or Teams? Now, the two are linked with Together. Easily interact and engage employees by sharing and reacting to company news and events!
It is also ready-to-use thanks to a predefined and pre-configured template with the essential pages of a corporate intranet enhanced with Powell Software's exclusive content: desk reservation tool, virtual coffee break, and virtual water cooler. The essentials for hybrid working.
Together intranet access
Powell Software provides relevant connections between the Intranet and Teams to easily access corporate content and information and a simplified search for a centralized experience in Microsoft Teams.
Direct access with a browser. Together can be accessed with any browser with the URL you fill in during the deployment step. Together is compatible with any modern browser like Edge, Chrome, Safari, Firefox. To ensure the best experience, we recommend having an updated browser with the latest updates.
Through a button in Microsoft Teams. Together is compatible with Viva Connections as it benefits from generating the button access experience in Teams very quickly. It only requires you to the Microsoft Teams app package during the deployment step.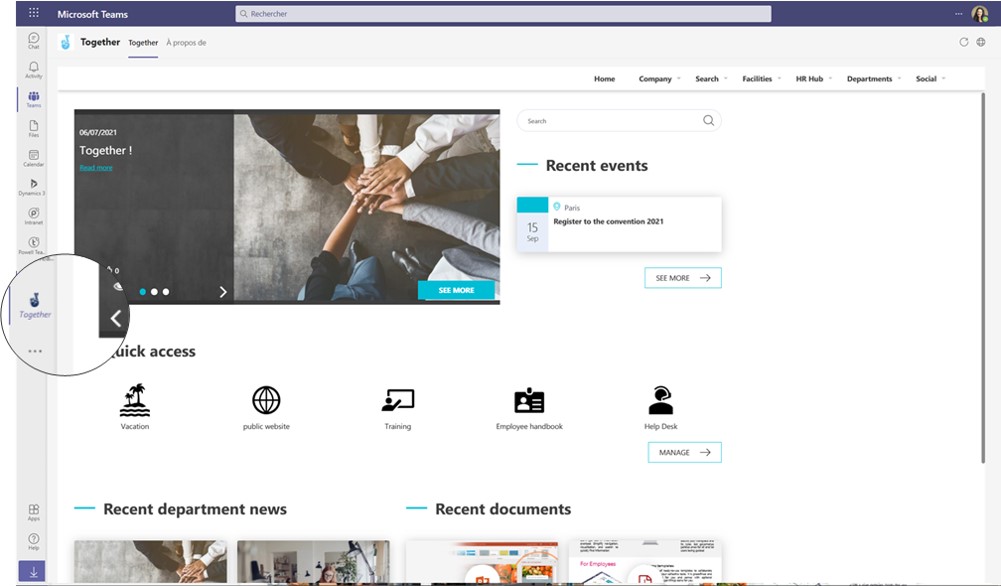 Through a dedicated Teams template. Together also offers the capability to access the company portal through a dedicated team to bring daily interactions, social features, and more employee engagement in the hybrid work. It requires you to deploy the associated Powell Teams team template during the deployment step.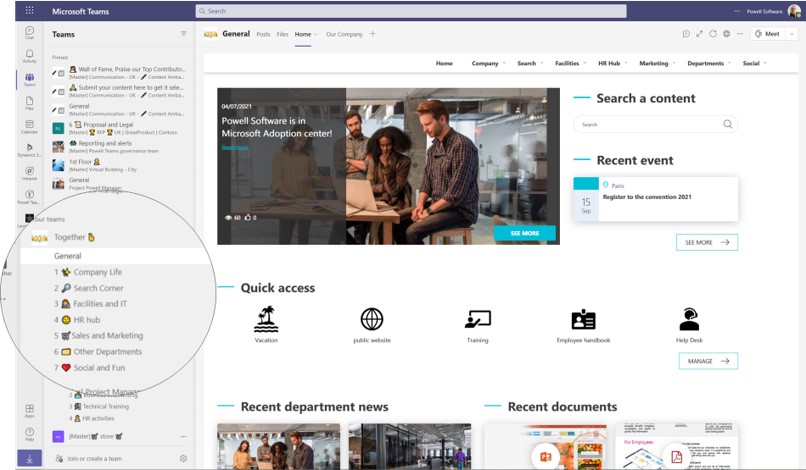 Together features
Together for employees

A complete portal

Post, share, exchange, and find information in the same place with linked collaboration and communication.

The HR Corner
Gather knowledge, onboarding resources, career management, and job postings.

Department pages

Each department has an easily accessible space to share and access ideas, projects, applications, information, and resources.

Virtual building

Recreate social moments like coffee breaks in the 'Virtual Building', to promote social ties and foster engagement.
General Portal
Employees access their company's generic portal to find information related to its structure.
Home - View the most important news, documents, and information about your business.

My Company - A description and the information that qualifies your company.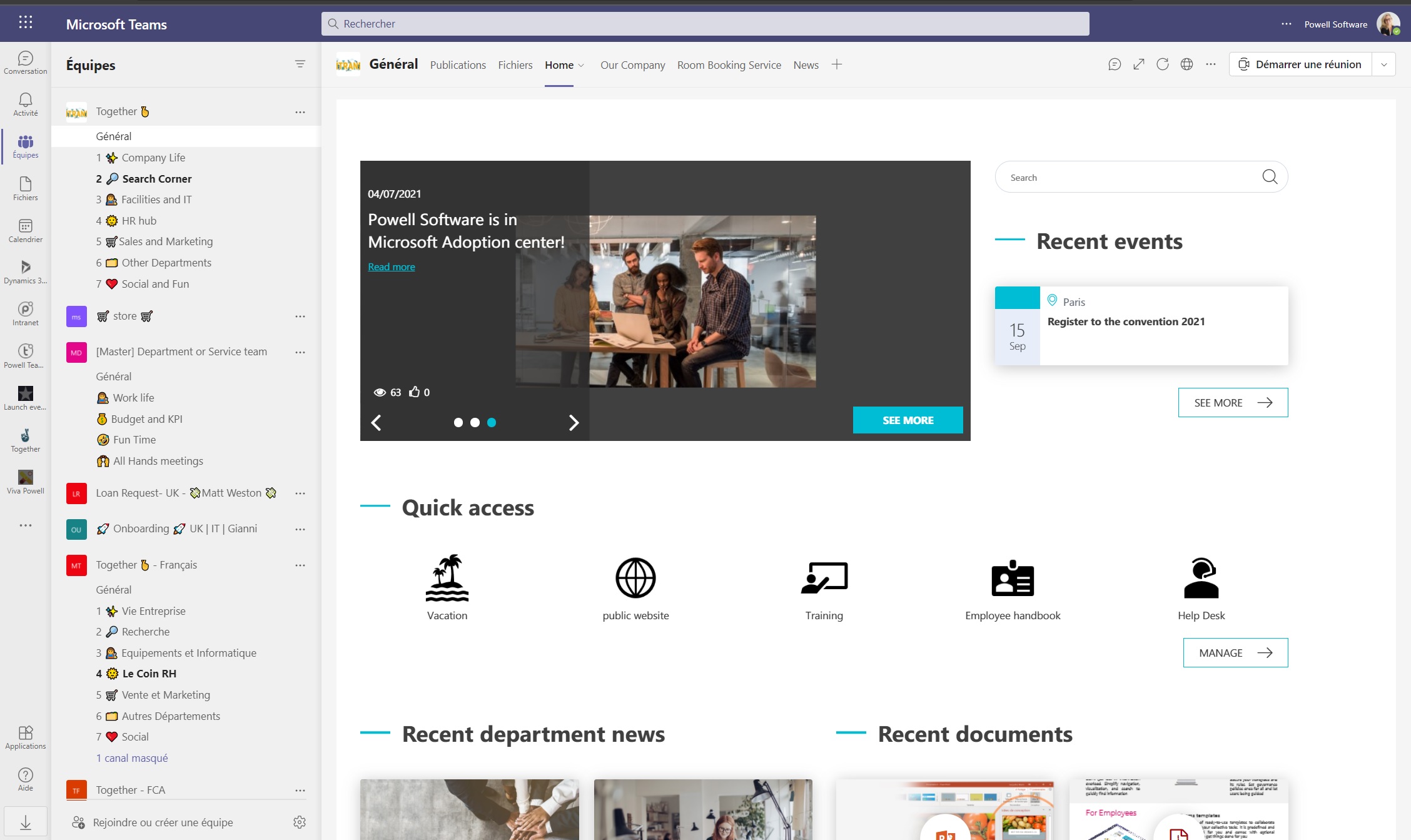 Search Corner
Employees have quick access to company resources and information.
Search a content - Easily find the most important company resources (documents and information) with an advanced search page.
FAQ - An easy way to create and mine all frequently asked questions as a glossary.
People directory - Find all the contacts you need and their key information.
Daily tools & Assistance
Support and IT teams can provide easy access to all the assistance you need by consolidating all services in one place.
Desk booking - Book your desk in a minute when you want to work in the office instead and not remotely.

IT Services - Access information and processes for your IT department.

Support - Get quick help by making support requests directly from the intranet.

Other apps - Personalize your Hub with your other third-party services and Microsoft apps.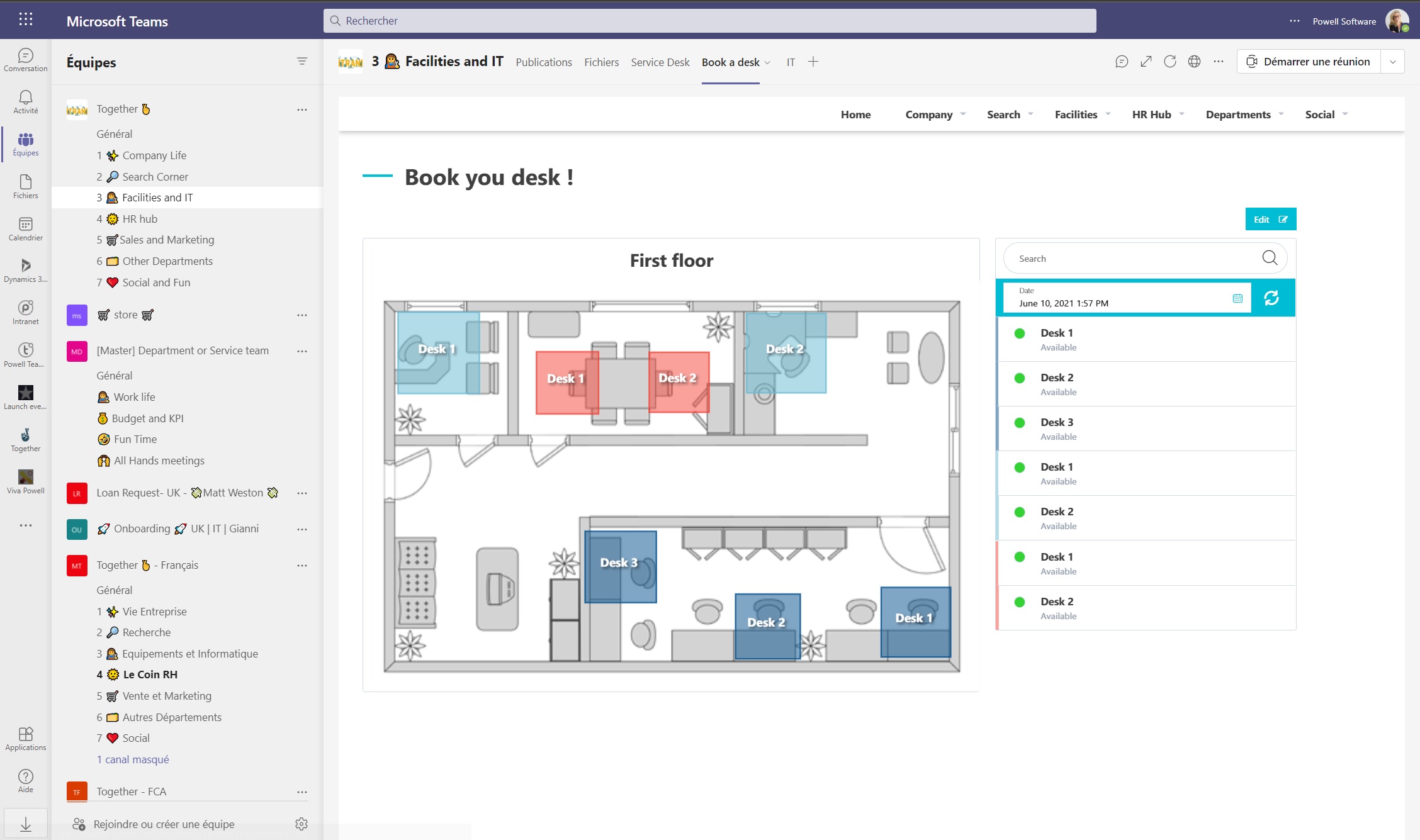 HR Hub
HR teams have a simple space that regroups critical documents and all daily HR services to welcome, manage and follow employee progression.
News - Communicate essential information to all employees, from the field to the office workers.
Knowledge Centre - Easy access to all learning materials to develop skills and abilities.
Onboarding – A simple onboarding space with all training resources to quickly speed on the company.
Career & well-being - Get a quick overview of information relating to your career and its evolution. Share your mood.
Job openings - Get a clear overview of job opportunities to share on personal social networks.
HR Tools - Quickly access all of the company's HR tools, easily input your expenses or leave requests.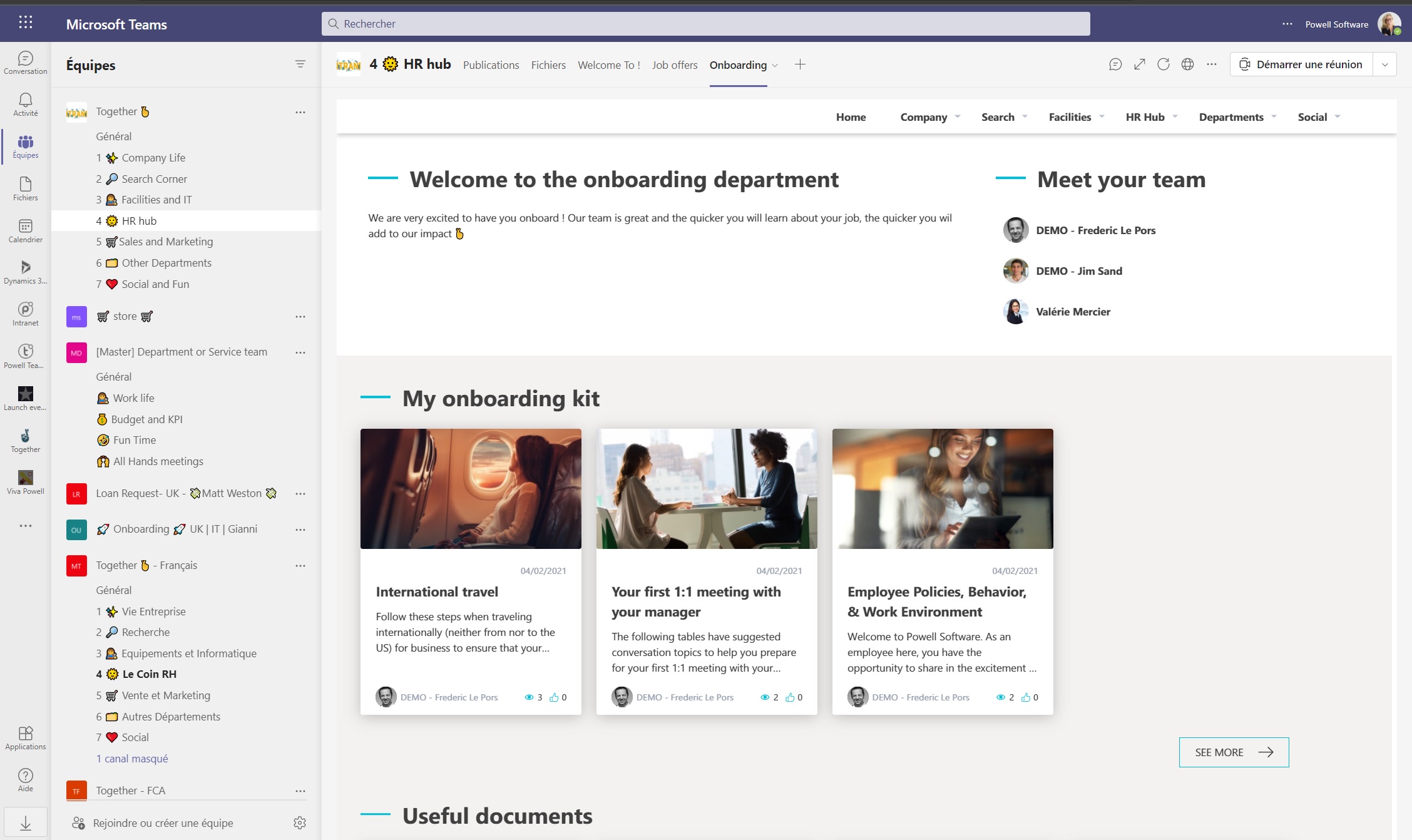 Departments
Each department has its own space to gather its specific information and resources for easy access and sharing.
Marketing & Comms – Store key marketing resources, product, and brand kits. Easily share internally and externally.

Finance - A simple space with key financial news and quick access to all performance monitoring dashboards.
Sales - View all business, customer, and partner information, as well as legal and pricing documents

... and any other departments you want to add.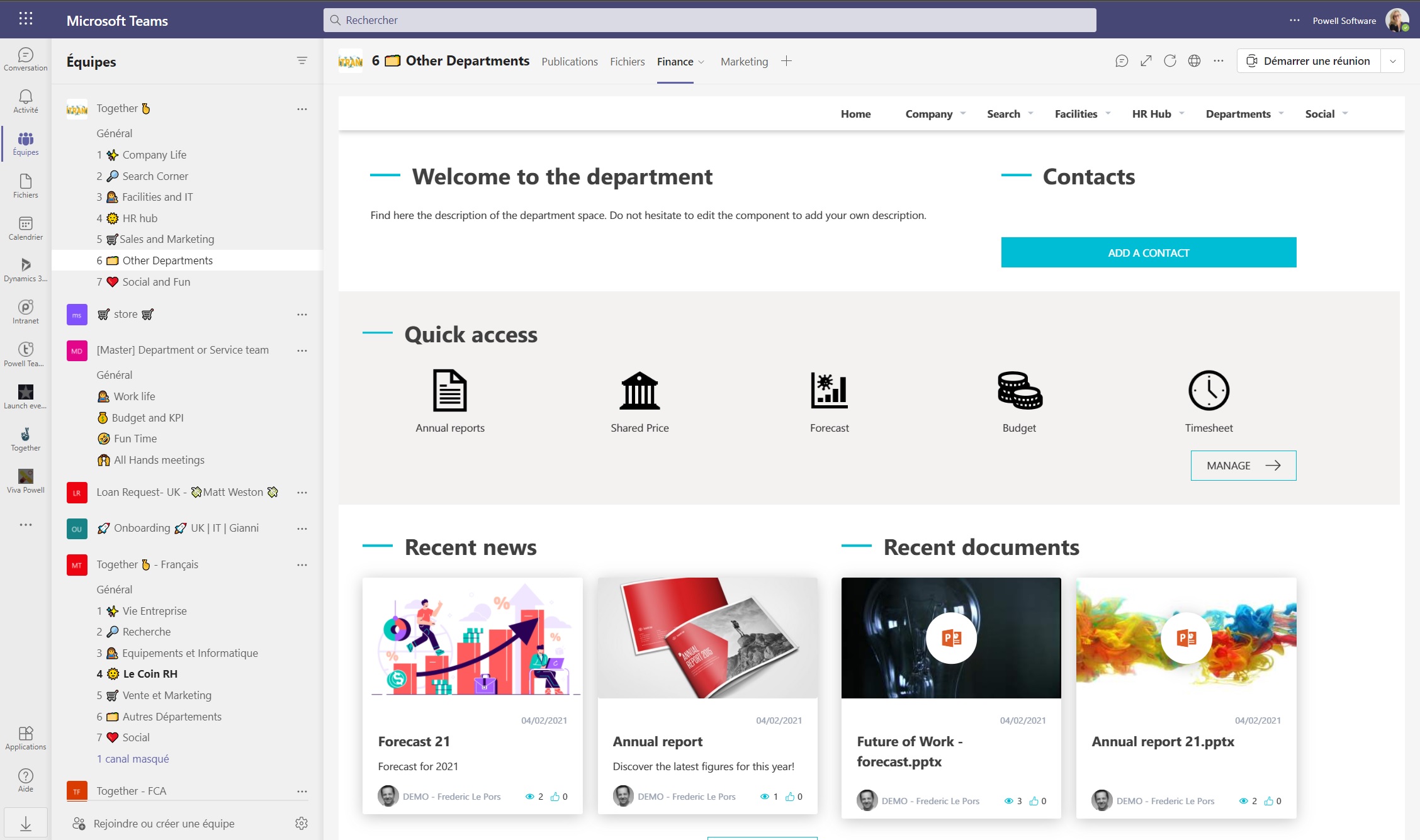 Virtual Building
HR teams can promote and maintain social ties with all employees through innovative features tailored to the hybrid workplace.
Virtual coffee machine - Meetings are automatically and randomly scheduled for virtual coffee breaks that help maintain social links (learn more).

Water fountain - Take a break and select a conversation topic to help ignite and animate discussions with your colleagues.