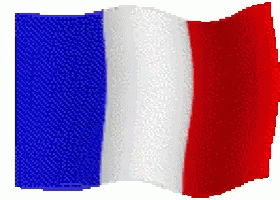 Lien vers l'article en français : Teams & le portail Together
Introduction
"Together" portal is a secure, ready-to-use all-in-one space, that allows uniting employees and their employers in a single simple and intuitive interface with corporate communication and documentation.
But what is really great about "Together" is that it is not only a corporate intranet space; "Together", unites the Intranet with Microsoft Teams so that employees can find everything they need on one convenient platform and additionally can interact and engage more in the company life and culture. That helps meet employees' productivity, communication, and collaboration needs.
Through connecting the portal to Microsoft Teams, we are able to engage and connect employees no matter where they are.
Accessing "Together" from Teams
You can access the "Together" portal, through a button in Microsoft Teams
"Together" is compatible with Viva Connections and benefits with the ability to generate the button access experience in Teams very easily. It only requires you to the Microsoft Teams app package during the deployment step.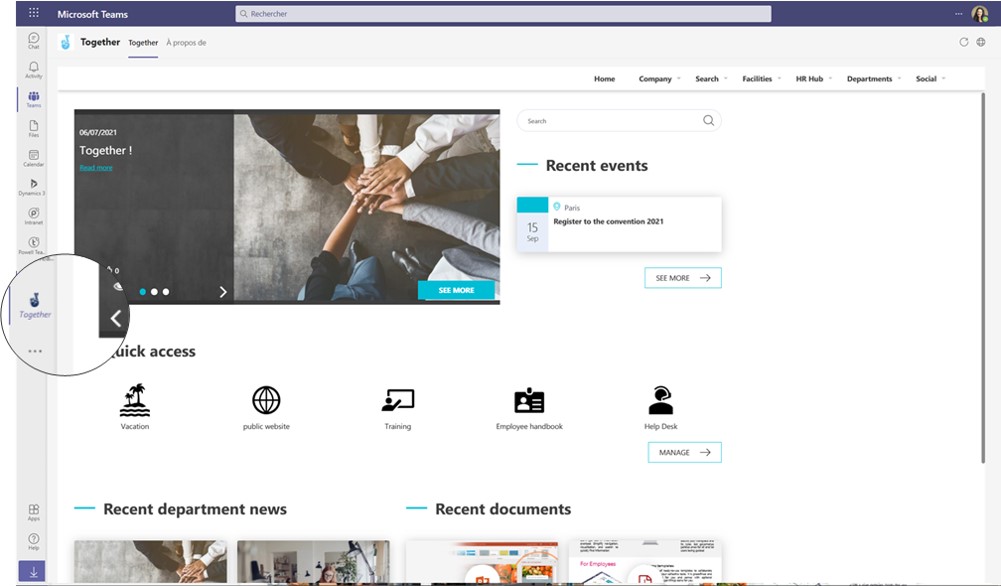 You can access "Together" through a dedicated teams
Together also offers the capability to access the company portal through a dedicated team to bring daily interactions, social features, and more employee engagement in the hybrid work. It requires you to deploy the associated Powell Teams team template during the deployment step.
A dedicated "Together" team in Microsoft Teams will permit you to have ready-to-use tabs (Together pages) in your team channels.
This will allow all company employees, from top to bottom, to access not only company resources but also to interact with each other in Teams channels:
Share news in channels​
Comment on announcements in channels​
Co-edit documents​
Share ideas and information about the company​
Have Virtual coffee breaks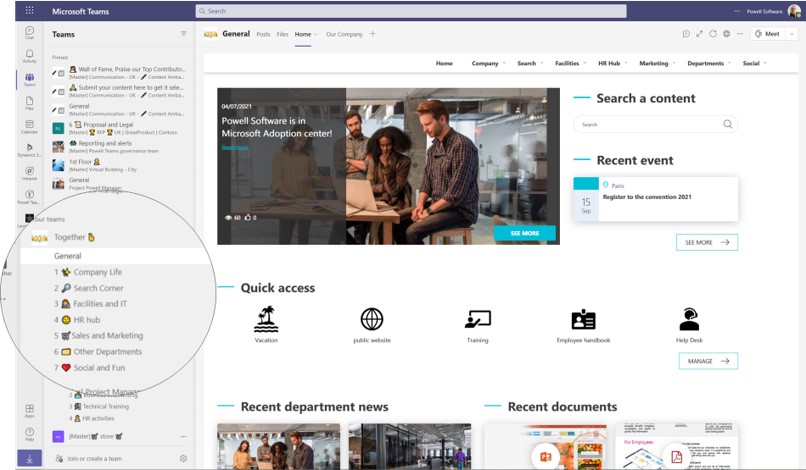 "Together" in Teams
The added value of having 'Together" (your Intranet) in Microsoft Teams is the ability to communicate and collaborate. The structure of "Together" in Teams is roughly the same as the structure of the "Together" portal. However, Teams brings more value to the user experience since it allows you to share your documents, news, and corporate information from the Intranet through team channels to stimulate company-wide discussion and collaboration.
Standard user experience (employee)
The employees with standard user rights on the "Together" portal cannot contribute and interact deeply on the portal itself, apart from the ability to like news articles. If you are a standard employee and are willing to share something with your team members or interact in any other way with the rest of the employees, here is where the integration with Microsoft Teams comes into play.
An employee can easily access the company news and distribute them with internal and external sharing buttons.
Sharing content and communicating in Teams
Teams will be the best place for employees to share and post news and discuss with others. You can share your documents, news, and corporate information from the Intranet through team channels to stimulate company-wide discussion and collaboration.
The sharing capabilities will allow employees to share news or events in Microsoft Teams through a single button. As the news is shared in a Teams channel, employees will interact more through commenting and reacting with emojis.
Moreover, an employee will also be able to celebrate an event or congratulate colleagues for their achievements in channel conversations.
Advice: add an @ mention to make sure your message is delivered. Your "mention" should be added directly in Teams.
Contributor experience
Suppose you are a contributor on the "Together" portal, and you contribute to creating content by creating news articles, for example. In that case, it will be in your interest to reach as many employees (readers) as possible.
To ensure that the news is delivered to all company employees, I can use either the sharing through email option or sharing in Microsoft Teams option (which is more advantageous).
As a Contributor, I will be able to share news according to the topic. If a news article targets HR people, I can share it in the HR channel; if it targets the marketing people, I will share an article in the Marketing channel.
For example, as an HR manager, If I add a new document to the Onboarding Kit, I can quickly let the employees know by sharing this information in the conversation.
Resources are shared in channels, promoting the exchange of information and conversation
Advice: add an @ mention to make sure your message is delivered. Your "mention" should be added directly in Teams.
Coffee Machine
The coffee machine is a tab that can be added to any channel of your choice. It is also great that a group of colleagues can take a virtual coffee break, automatically created for them in Teams. This promotes and allows more employee interaction and brings more fun to their daily lives.
Your Together team comes with one virtual coffee machine already deployed in the social links channel. But you can add other coffee machines in any other existing channel by adding it as a tab.
Virtual coffee machine - Meetings are automatically and randomly scheduled for virtual coffee breaks, helping maintain social links (learn more)
Find out more about how to configure the coffee machine here.