Introduction
With My Board Template, you can create a personal page where you can access your profile information.
The page starts with the user name and profile picture. Right under the profile picture and name, there are quick links that momentarily redirect you to your Delve, OneDrive, Yammer, Outlook, and Teams pages. Under the quick links, the page showcases comprehensive personal information with your short "about me" part, projects, skills, expertise, school and education, interest, and hobbies.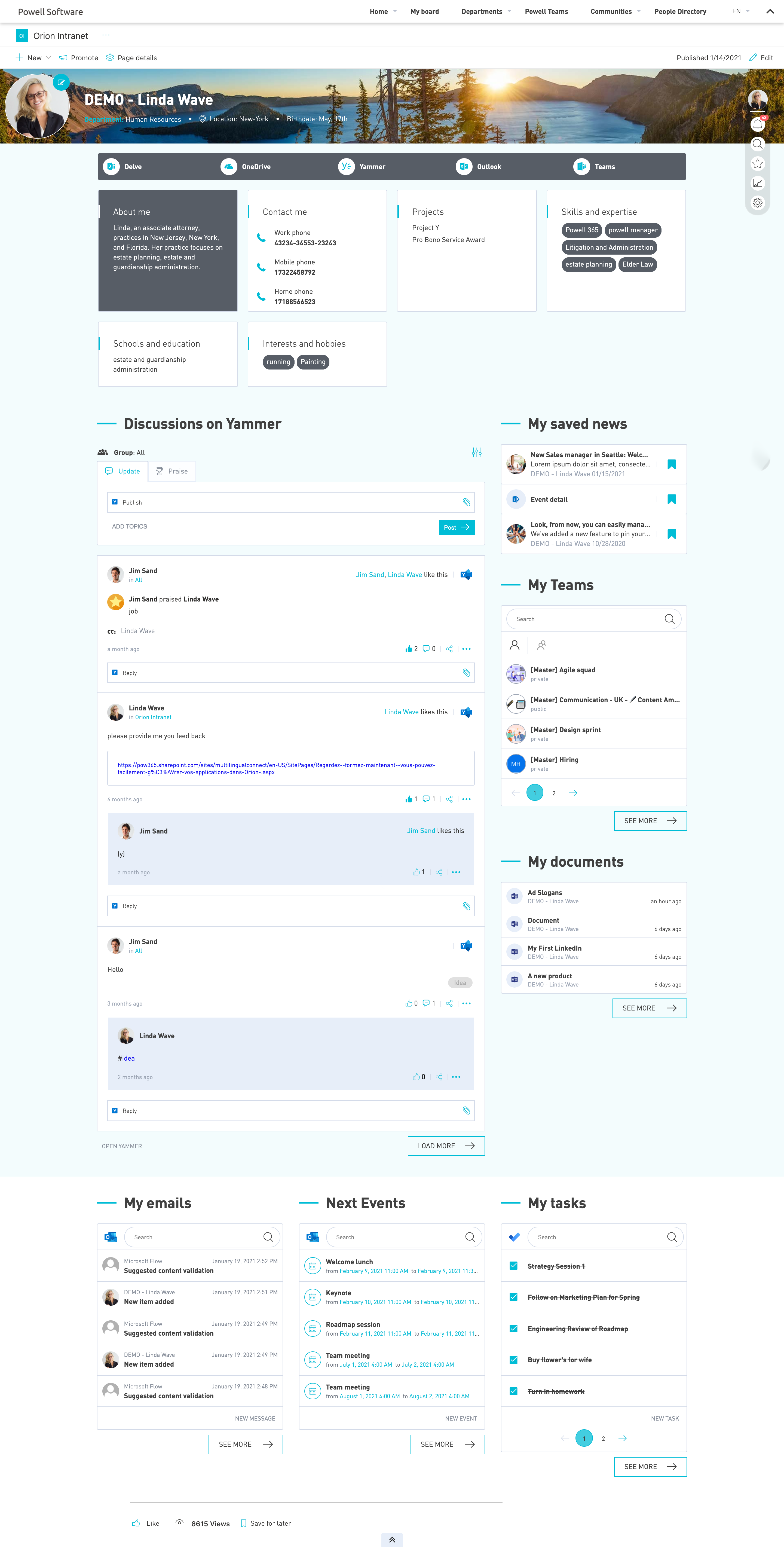 All this various information regarding the user is organized in one section via the Powell web-part My profile. Take note that after completing their profile, users can gain points.
If you are a Contributor 👩‍🌾, and you want to know how to incorporate gamification features in the "My profile" web part, click the link above.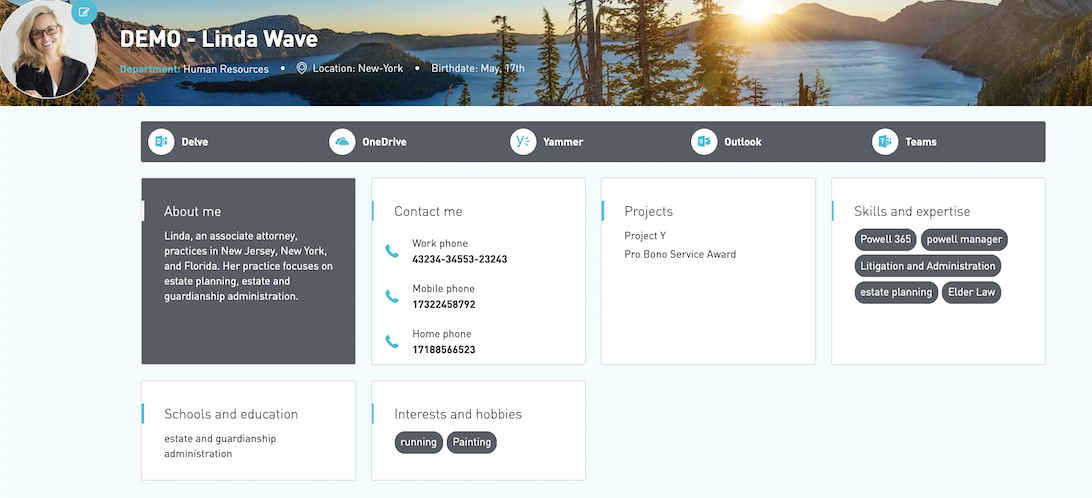 Further below, there is a Discussion web-part and it comes from the Yammer web part. The filter on the upper right corner of the web part, enables us to find discussions according to a specific group or department.
For example, if you choose the Marketing group, you will see the discussion within that group. You can start a discussion, like, and comment directly on the page, which will be automatically updated on Yammer. You can also praise people for their achievements directly on the page.
If you are a Contributor 👩‍🌾, go to the Yammer page under widgets, to see how to configure this web part.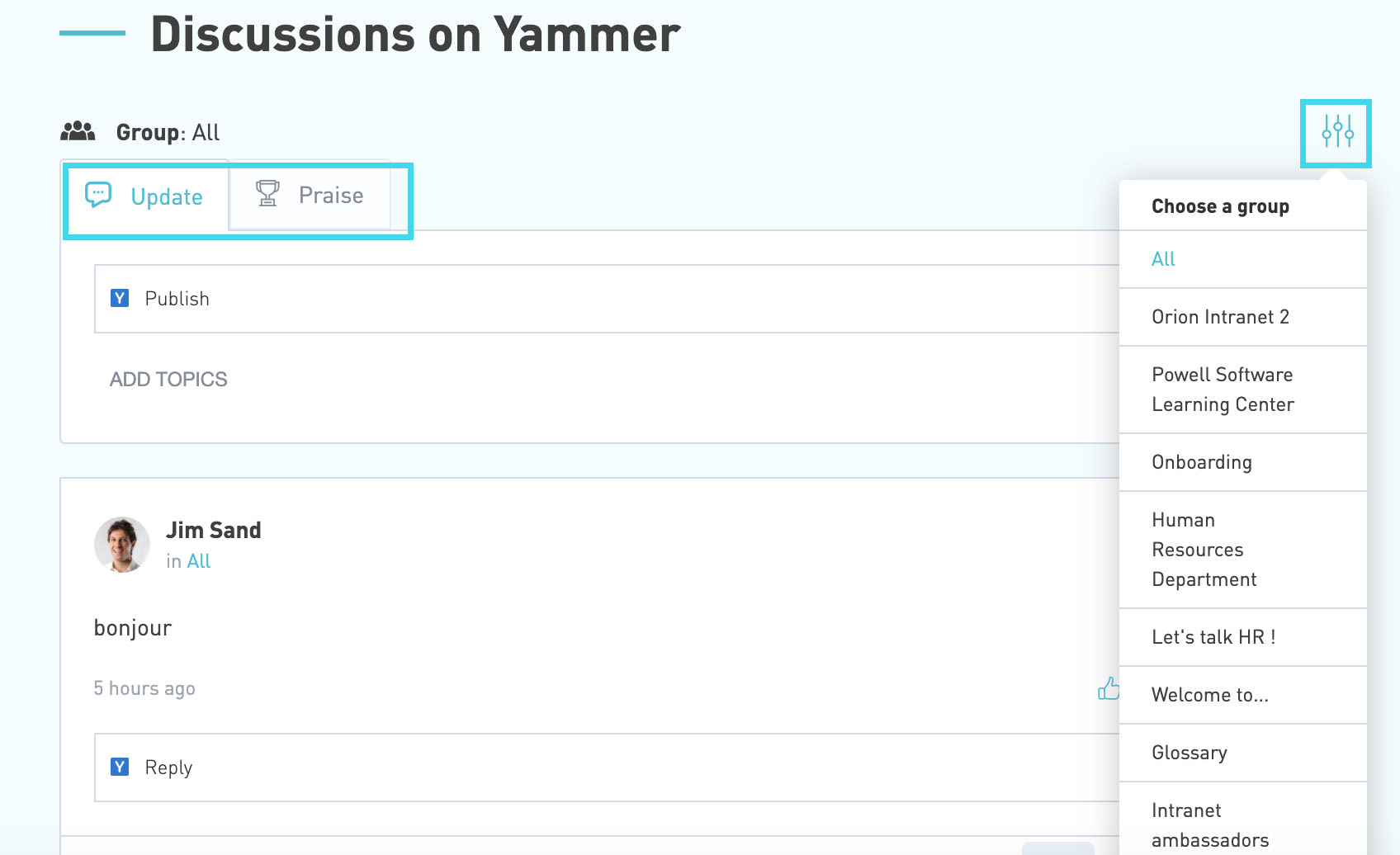 Next to Discussions, there is a My Saved News web part which is a Saved for Later web part.
We encounter hundreds of news every day. There are some that interest us but we do not have time to read them immediately. You can click the "save for later" button.

Saved for later button
As you configure this web part, all your "saved for later" content will be assembled in one place. If you are a Contributor 👩‍🌾, check the configuration of this web part, on the page "saved for later" under widgets.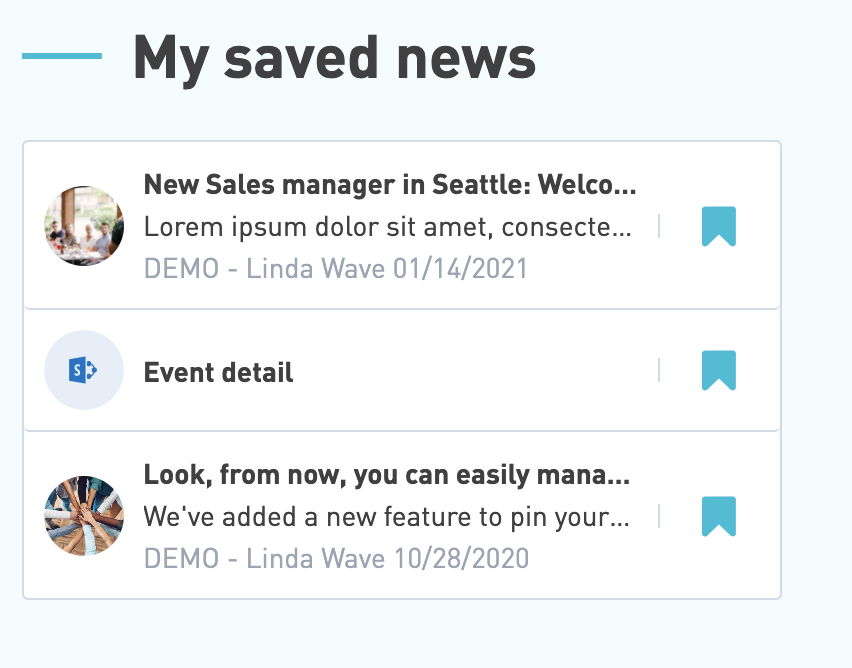 Under "My Saved News" there is an Office groups Teams/Yammer web-part, which will bring in Microsoft Groups or Microsoft Teams, directly into your personal board.
With the search, you can find the team you are looking for and you can filter the content by "My Teams" or "All Teams".
When you click the "see more" button it will redirect you to Microsoft Teams.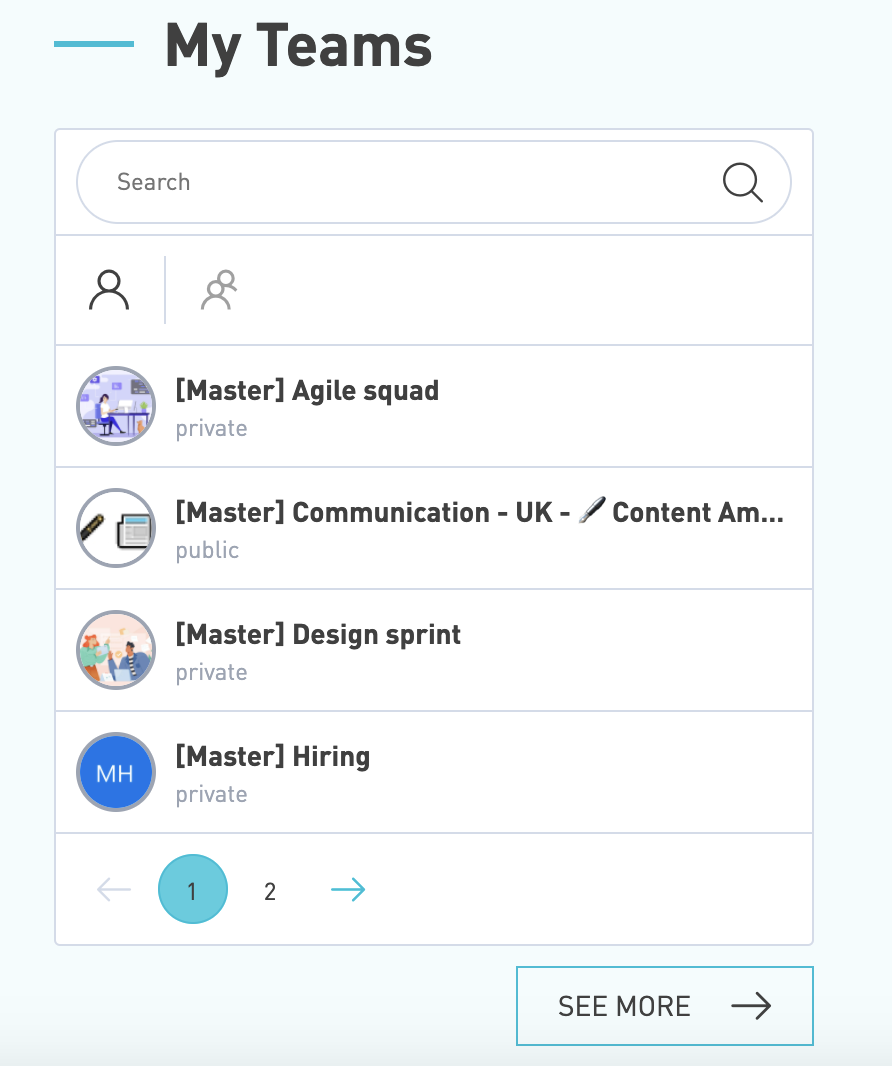 In addition, this web part allows you to access different channels in Teams and see the conversation feed directly on the page. As you click on a team, a team window will pop up. (Image below)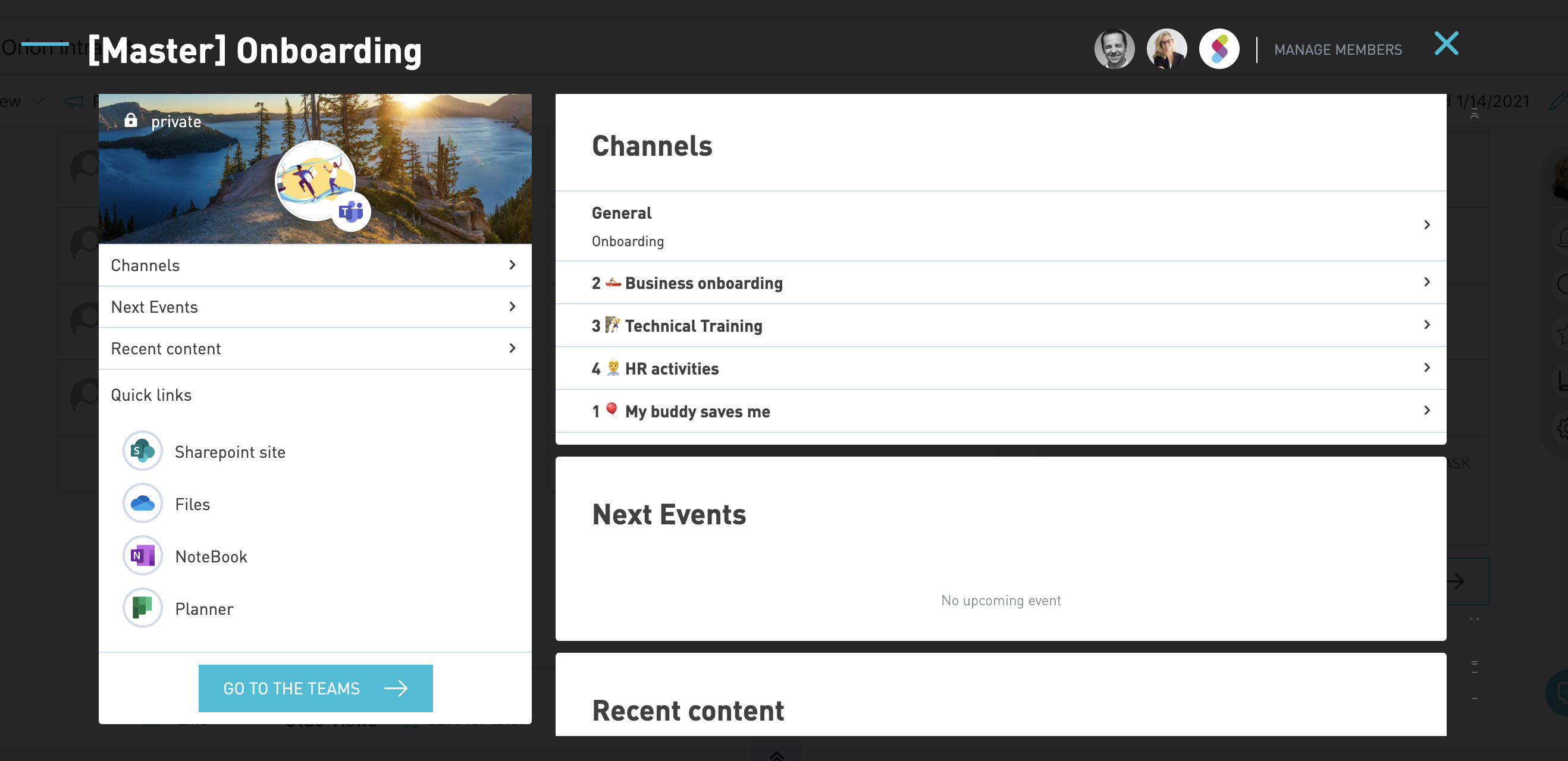 Users can access their conversations (in the app), their files, calendar, planners, and sites through the quick links. Users can also easily add team members when they click "manage members" at the top right corner.

Users can access their recent channels as well as general conversations, news, events, and recent activities.
By clicking on one of the channels, a user has access to conversations and files shared within the channel. If you reply to the conversation, your answer will be automatically updated in the Teams application.

By clicking the "Go to the Teams" button, you are redirected to the Microsoft Teams page.
In Powell Manager, you can also create different templates for the groups. When you create a new group, you can then select between different templates that are created in Powell Manager.
If you are a Contributor 👩‍🌾, click here to see how to configure this web part.
My documents web-part below is a Delve web-part showing the recently opened documents by the user.
Clicking the document will download it immediately. Clicking the author name will open a small window with the organization chart and recently-opened documents (image below).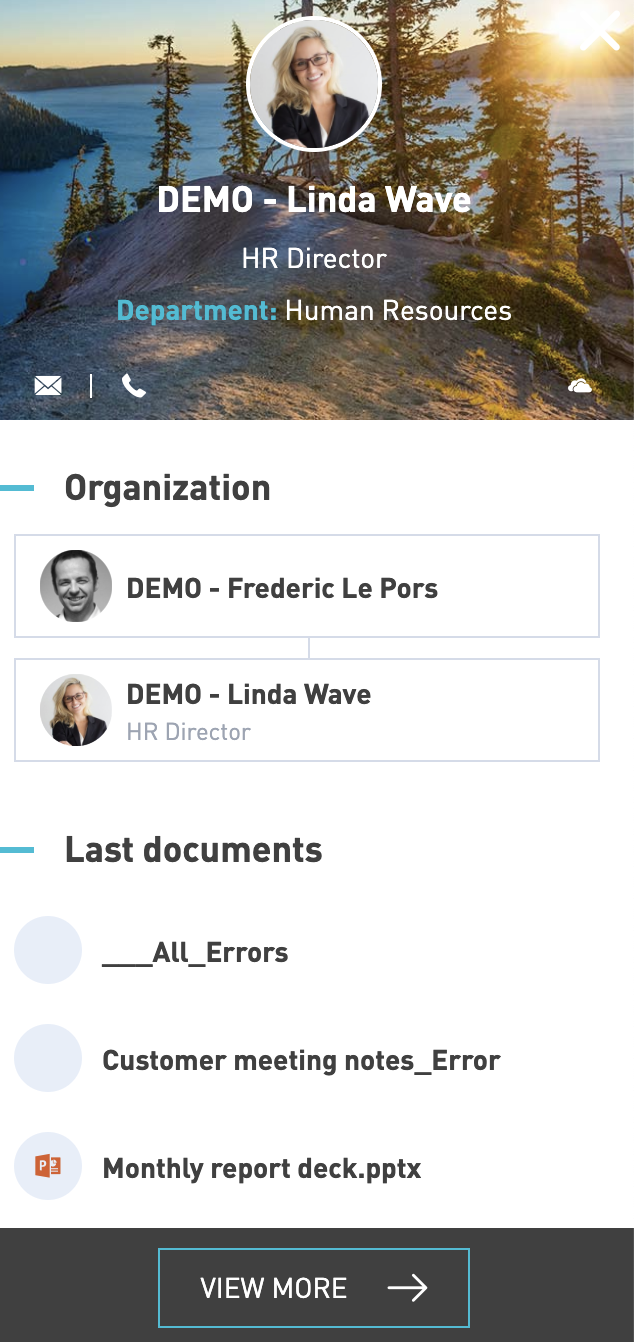 If you click a "view more" button, you will be redirected to your delve page.
If you are a Contributor 👩‍🌾 see the web-part configuration on the page "Delve" under the widgets section.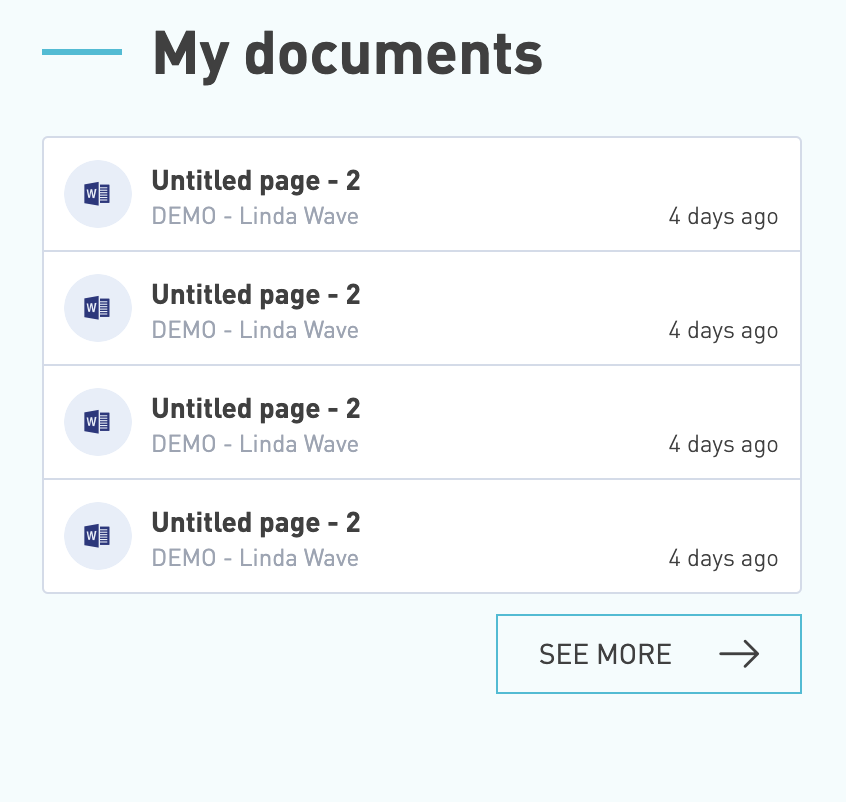 The bottom part of the Page displays three web parts which are Outlook connectors: My emails, Next events, and My tasks.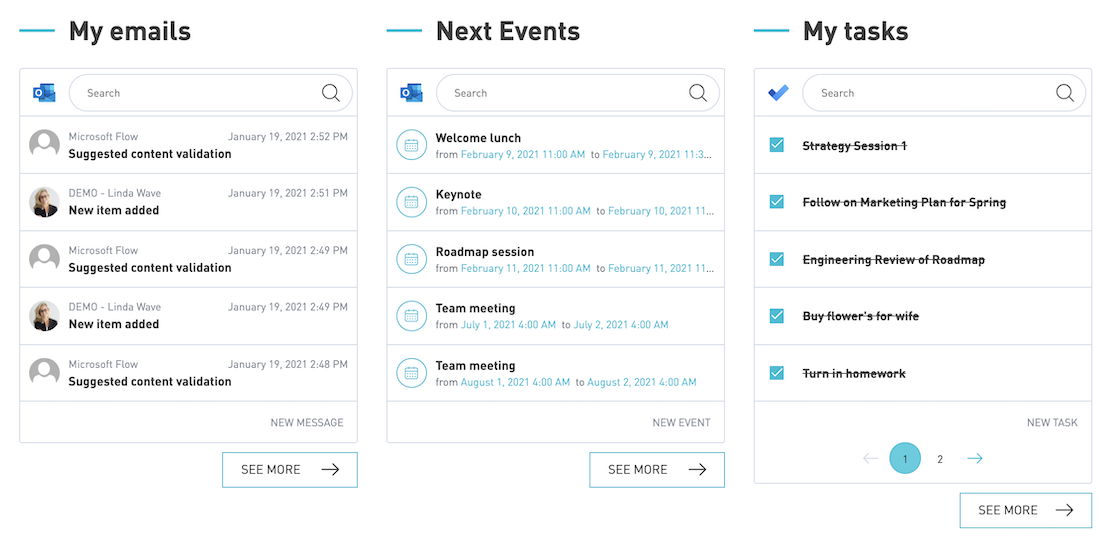 My Emails and My Events and My Tasks push information from Outlook Online. You do not have to open Outlook separately. From within the portal, you can see your latest emails, search through your emails and send a new email by simply clicking "NEW MESSAGE". It is the same for my next events and my tasks. Your entire calendar and tasks can be viewed here. You can search for an event and create a new event or a new task without exiting the dashboard. You can designate the tasks that must be done. You can see where you are with those tasks; whether it is finished, or in progress.
When you click the "see more" button, you will be redirected to your Outlook.
My Emails is an Outlook Email web part.
My Events is an Outlook Calendar web part.
My Tasks is an Outlook Tasks web part.
If you are a Contributor 👩‍🌾 go to the Outlook connectors page under widgets to see how to configure these web parts.