Table of contents
New to Powell Intranet? Click here for the full product overview.
Introduction
A lot of corporate communication is constantly shared on the company intranet. Due to the sheer volume of content, employees often overlook essential company policies and regulations.
The "General Company Policies" page on Powell Intranet Empowers your organization and its employees with a dedicated and ready-to-run template. It will remove any confusion among employees, highlight best practices and ensure employees are aware of crucial company practices and processes. The goal of the company policy page is to keep company policies in one place, so employees don't waste time looking for the reading material they need.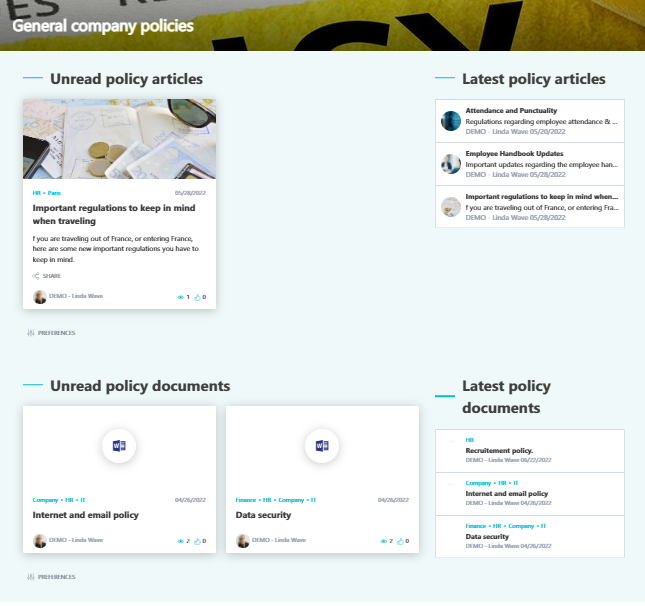 Check our article on how to avoid information overload and how to ensure employees read critical content on the intranet.
Check also our video:
Organization
You can see four content-search web parts on this page that help organize company policies efficiently and effectively. The upper part of the page displays company policy articles, while the lower part displays policy documents.
The first web part displays unread policy articles, which simplifies tasks for employees. As intranet users go to this page, they will know immediately which company policy articles they still need to read. On the other hand, the web part, "latest policy articles," displays all other company policies that a user has already read.
In the same way, the lower part of the page displays company policy documents. On the left web part, employees will access policy documents that they haven't read yet. While on the web part on the right - all other recent policy documents.
By default, the page displays the content according to an employee's role. If an employee is in a sales department, the page will show all corporate policies & sales policies. However, the "preferences" button will let employees set their own preferences and choose the departments from which they want to view policies.

The date displayed on each content is the due date for reading the content set by intranet administrators.
These content-search web parts need a specific configuration to display company policies. If you are an Administrator👩‍🌾, you can organize and configure these web parts as you wish. To know how, view the page Site owners - How to set "Must-Read."
Content Management
To create and manage content (company policy articles & documents), intranet administrators have access to a separate, dedicated company policy administration page. The company policy administration page is a standalone template that site owners can deploy on the intranet, and standard employees/intranet users cannot access it.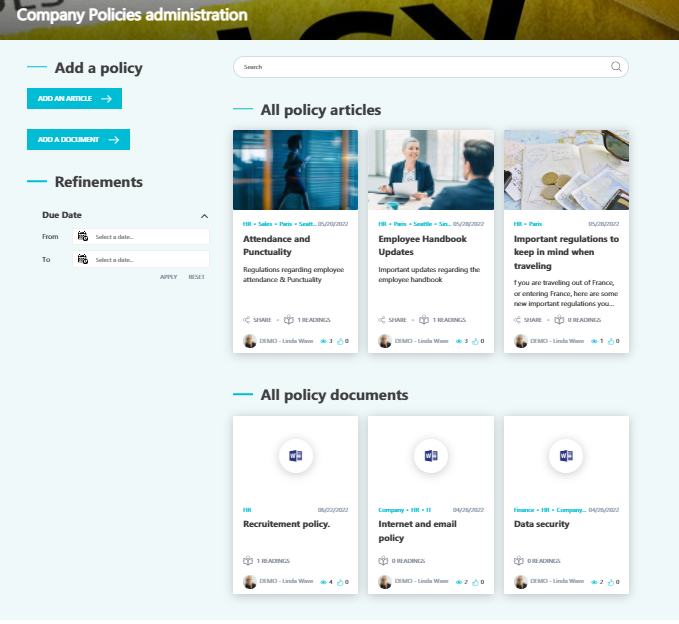 On this page, intranet administrators will be able to create, share and manage company policies through two dedicated buttons "add an article" and "add a document".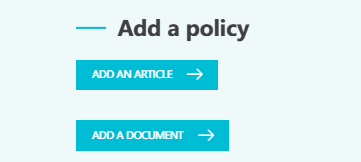 These buttons are button web parts, that can be configured to perform different activities. If you are a Contributor 👩‍🌾, you can see how to configure these buttons on the page Button.
Clicking these buttons will open the policy creation form where you need to fill in the required information. The admin or contributor then needs to click publish in the creation form. The content is immediately available on the policy admin page and pushed to the employee's general company policy page.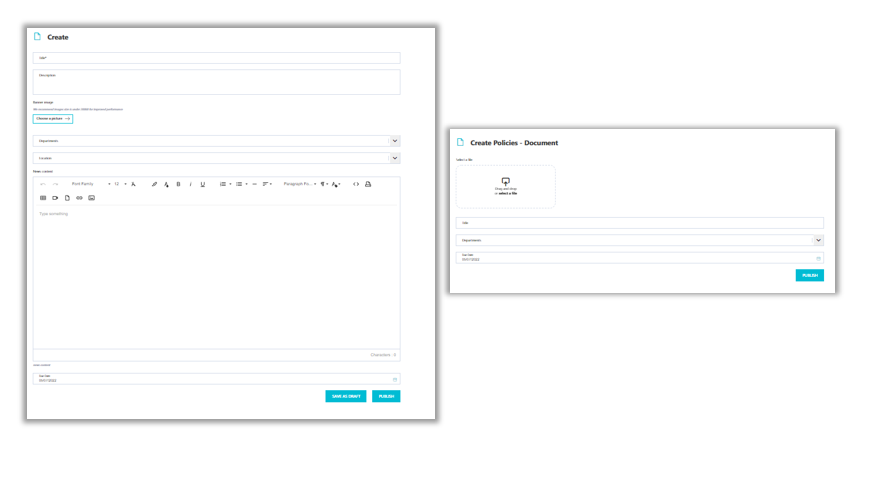 The Search Tab you see on the page is a search box web part that will facilitate the search for specific policies. If you are a Contributor 👩‍🌾, you can see how to configure this web part on the page Searchbox.

The two web parts displaying company policy documents and company policy articles are content-search web parts that need a specific configuration. Administrators can use many different options to display company policies on the intranet. Intranet admins can make company policies pop up on any other page, such as "HR," "Sales" and even even "My Board."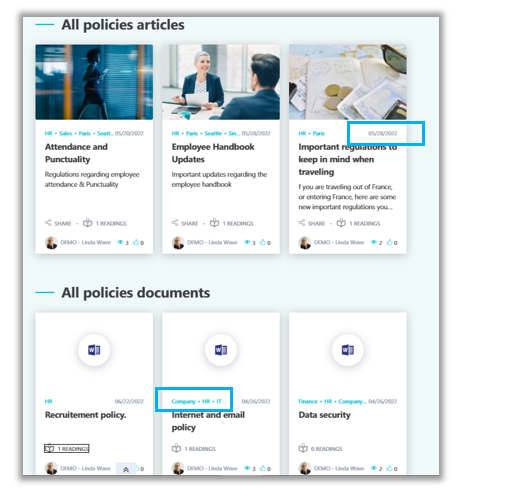 In addition, administrators will be able to access statistics on the content shared to track the number of readers for each article/document.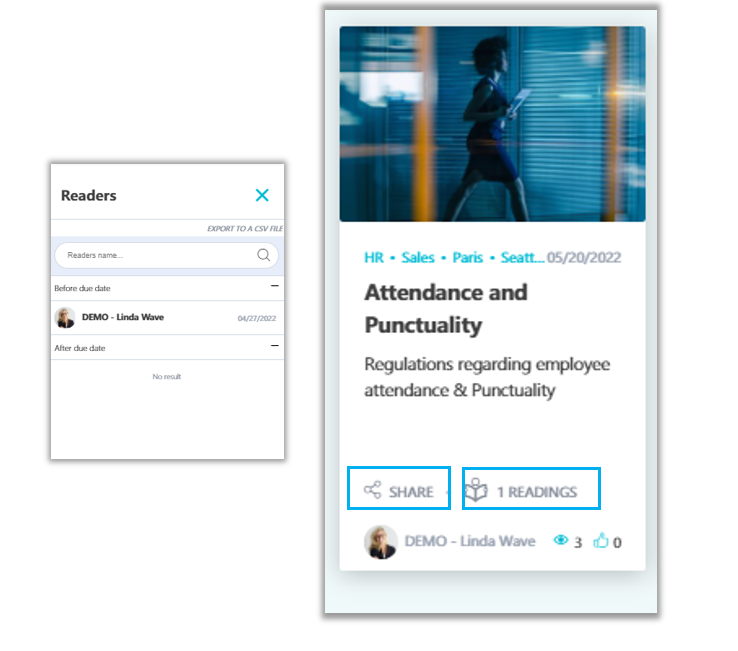 Find out more through a complete technical guide on the page Site owners - How to set "Must-Read."
Additional technical steps
If you are an administrator 👩‍🏭 and want to know how to deploy these two templates from Powell manager, view the complete guide on the page Deploy a Template on the Intranet.
To understand how to set up and configure must-read content on the intranet, view the page Site owners - How to set "Must-Read."